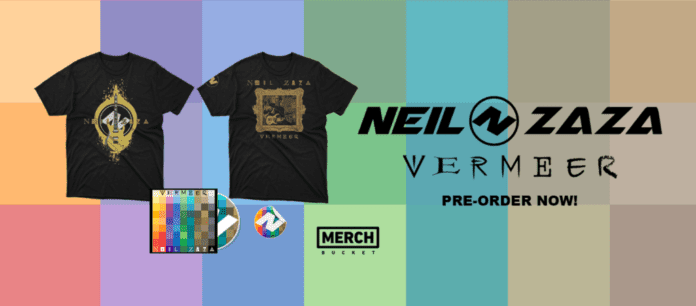 One of the world's best guitarists just released a new album, and he's from right here in Northeast Ohio. Neil Zaza is no stranger to those of us lucky enough to grow up and reside in NEO – back in the day his "hair metal" band ZAZA was an area staple and garnered light national attention – in recent years his annual Halloween show titled ONE DARK NIGHT has become a haunt season staple.
Neil has quietly – actually too quietly – become a virtuoso, a true master of his craft, and that fact is never more evident than in his latest release VERMEER which I am going to claim right here and now is the album of the year.
A brilliant copulation of original music, with one notable exception, but we'll get to that shortly – the 11 tracks on this album are as eclectic as they are jaw-dropping.
I love music that makes me feel good – that makes me smile and I have to say, I was grinning like a fool through the entire runtime of VERMEER.
Opening with a short prelude that introduces us to Zaza's majestic style of playing – we are quickly led into the first full track an old school rocker BIG ROCK that with its heavy back beat and layered keyboards will take us all back to our early MTV days – where the music was loud and the heads banged freely. Just plain fun.
Next up is SOMEDAY TODAY – where Neil and his band take us on a round trip of musical excellence that honestly I wish would never end. I have no idea what the song is about – I just know that when I listen to it I feel like I could take on the world – and win.
While GUMDROP FANTASY is a complete departure from the previous tracks – and features the only vocals on the album (two whole words) the song manages to take us on a journey and Zaza's mastery of his craft is so awe-inspiring – it is impressive when someone can tell a complete story and only use two words to do it. He lets his fingers do the talking – and what a tale they tell.
With JUNO we return to the keyboard ladened, heavy backbeat sound that I personally can not get enough of. Zaza has constructed a musical narrative that is addictive and joy-inducing. This song sounds like it belongs on the soundtrack of an 80's movie, and I love it for that.
With ST. VALENTINE we get what I would call a ballad – it's one of those songs that I find myself singing along to the guitar part – don't worry Neil, I've constructed my own set of lyrics for this one, and they are every bit as awesome as your playing.
UNITED WE STAND is a loud and brash anthem – fast and upbeat it seems like it should be played with a full orchestra behind it. It's got a real TSO feel to it – and I mean that as the highest possible praise. Again – this one gets the blood flowing.
The next track BLOSSOM slows things down again and allows Neil to show off his more classical stylings while maintaining that metal edge. This track is very moving, although I can't tell you why. Just something about the way he plays it – and the way the song is structured that plays with your emotions and gives you the idea that the story he is telling you with this tune is important – and ultimately triumphant.
With POP-ALICIOUS we head down a completely different musical road, synths and electric drums usher us into a strange world of contradicting style that somehow when all is said and done makes perfect sense. I'm pretty sure the song ends with a cat purring – just saying. This one is strange but in all the right ways. Side note – Neil's fingerwork here is blistering.
I mentioned early on that all but one track was original material – the only cover song on this outing is a perfect version of the massively overlooked hit by The Producers – SHE SHEILA – always has been a great song and Zaza and company breath new life into it and make it even more awesome. His addition of the final stanza – and the pure musicianship that is displayed is beyond impressive. From about the three-minute mark until the end of the song is all Neil Zaza and it is so uplifting and so fun – it's historic. I'm not overstating.
For the final track – the tasty little mint at the end of the meal, if you will – we are served THE SPACE WITHIN. This comes off as a bit experimental, Neil making his guitar do things that guitars shouldn't be able to do – and yet, here we have it. It ends the album on a slower note – gently ushering us out of the monumental show of musicianship that we just traveled.
I love this album – I l love how Neil was not afraid to try any and all styles of playing, I love how each and every song is so completely different than the one before it but mainly, I love the way this album makes me feel.
VERMEER is out now – you can pick it up where ever you download or stream your sound or, you can CLICK HERE and order yourself up a copy.
Remember, you heard it here first – album of the year.