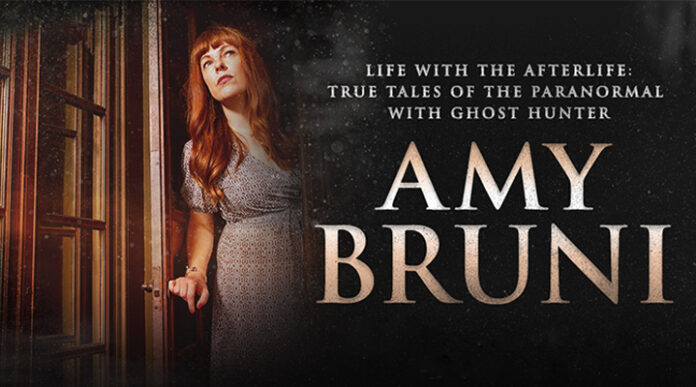 If you're a fan of ghost-hunting TV shows, as I am, then the name Amy Bruni is one that requires no explanation. Amy has been a driving force in the paranormal field for years – and this September she's bringing her stage presentation LIFE WITH THE AFTERLIFE: TRUE TALES OF THE PARANORMAL WITH AMY BRUNI to the Goodyear Theater in Akron.
Here are all the details:
Paranormal investigator, author, podcaster and star of Kindred Spirits and Ghost Hunters, Amy Bruni shares hair-raising tales from her countless hours hunting ghosts at America's most haunted locations. Amy shares her unique approach to interacting with the spirits of the dead and those who encounter them. By the end of the night, you will question everything you thought you knew about the spirit world, and life after death.
Amy Bruni started her professional ghost hunting career just over a decade ago, but her experience with ghosts started when she was very young. She began as a paranormal investigator in 2007, when she began appearing on Ghost Hunters, in which she starred in 116 episodes. Now, she's the co-star and executive producer of The Travel Channel's Kindred Spirits, one of the longest-running and highest-rated paranormal television shows, currently airing its sixth season and is in pre-production for its seventh. Amy is also the host of the wildly popular Haunted Road podcast, which just wrapped its second season and is in pre-production for its third. In support of these shows, Amy has appeared at numerous conventions, like San Diego and New York Comic Cons, and has other appearances planned for 2022 and 2023. Amy is also the owner of Strange Escapes, a company offering paranormal excursions to some of America's most notoriously haunted destinations. A native of northern California, Amy now lives in Newport, Rhode Island with her young daughter.
The show is September 21st – right in the heart of the haunt season – and you can click here for ticket prices and all the other info you need.